Thor Slot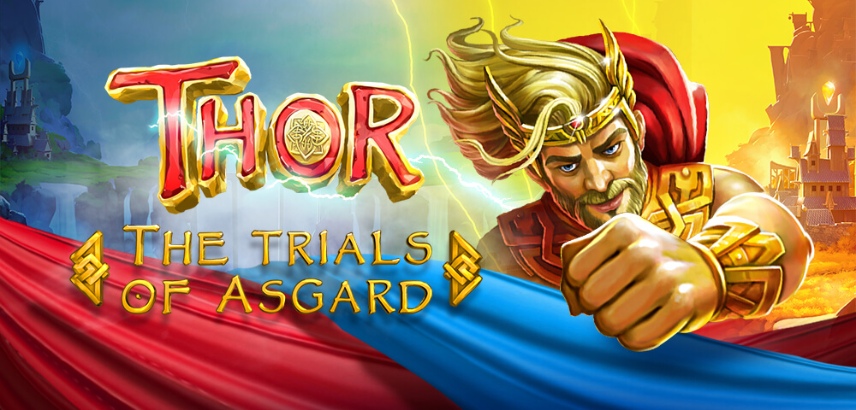 Thor: The Trials of Asgard Slot Game - Superhero Themed Fun!
Game Features
Min bet €0.1
Max bet €20
Paylines: 1024
Reels: 5
When the hammer strikes, that mighty crack is unmistakable! It is the Norse God of Thunder rushing to your screen at breakneck speed. Thor slots by GVG (Green Valley Games) packs a punch! With 5 spinning reels and up to 1,024 paylines in play, you can expect action all the way.
Among the most powerful superheroes in the universe, Thor is the embodiment of the alpha Viking – a fearsome warrior with tremendous moral authority. The son of Odin Borsin and Earth Goddess Gaea, he possesses superhuman powers, courtesy of his mighty hammer Mjolnir. Raised in Asgard by the King and his stepmother Frigga, Thor is a born leader, protector, and servant of the people.
Join our mighty superhero at PlayToro as we embark on an epic adventure like none other. Thor slots ranks among the best of Nordic-themed slots games, and it's yours to enjoy at the click of a button, on PC, Mac, and mobile devices.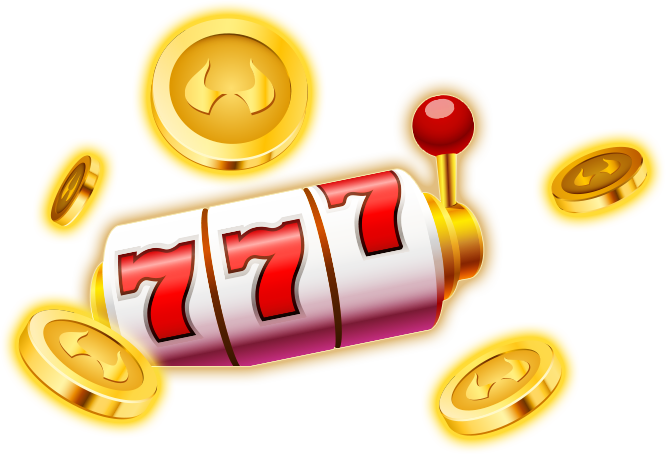 Play Thor Slots Online
Get ready to blast into the cosmos with free Thor slot games at Play Toro Casino. Our immersive 'teleportation chamber' is ready to take you on an unforgettable journey to Thor: The Trials of Asgard as our hero battles villains in an action-packed slot machine game.
Thor slots game is peppered with feature-filled elements, including Expanding Reels, Free Spins, and an amazing array of Bonus Features. Be prepared for Wild adventures, and fantastical 2D/3D animation, as we take you on a blistering voyage through deep space into Thor slots territory.
Buckle up voyager. You're about to get up close and personal with the Norse God of Thunder in our Thor slots review. PS, you may want to back up a little bit when Thor hoists the mighty Uru hammer Mjolnir, and whips it around at lightning speed. It's got one heck of a thunderous crack! Proceed with caution - we are now entering the realm of Thor: The Trials of Asgard….
Our Thor Slot machine is a fascinating game to play! This supercharged action-adventure slot by GVG is a standard 5 x 3 reel slot game with 243 ways to win, with the potential to unleash 1,024 ways to win on a 5 x 4 reel grid format. This Thor slots review takes you behind-the-scenes deep into the heart of Asgard as we explore the many mysteries, in-game bonuses, and exciting features up for grabs.
Players have the ability to expand potential payouts up to 32,000 X, courtesy of 1X to 10 X multipliers, Free Spins Rounds, and a sprinkling of Wild Symbols to boot. Plus, the game delivers Extra Scatter symbols to ramp up the number of Free Spins rounds. There are 3 bonus rounds in the game to keep the action flowing thick and fast.
With Thor slots, you can expect feature-rich entertainment on every play. The game's RTP (Return to Player) is 96%, and that's right up there with the best of them. The RTP is a theoretical return based on at least 1 million spins;
Your virtual journey into an ancient world comes alive with startling realism at PlayToro Casino online. Betting begins from as little as €0.10 to €20 – but keep it real, this is your budget at play. There are plenty of paying combinations up for grabs, when otherworldly forces come into play.
Fortunately, you don't have to risk life and limb in this adventure – free Thor slot games are yours to enjoy. Don your helmet and your Viking gear; we are about to take you into the thick of it, in a blistering action adventure slot game. Ready to learn how to play Thor slots? Let's get to it, there's not a moment to lose!

[] See More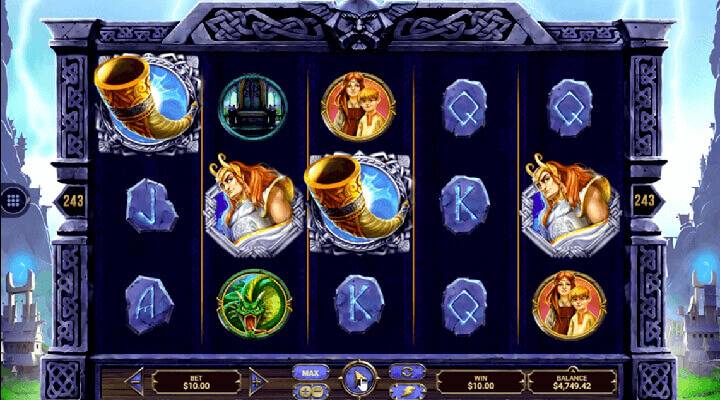 How to Play Thor Slot Game
Thor slots neatly lays out all the action elements for you. To place a bet, simply click on the +/- alongside the 'Bet' meter to increase or decrease the size of your bets accordingly. Once you are ready, click the blue and silver spin button to supercharge those spinning reels.
A word of caution: Electric energy will be pulsing across your screen, as the mighty Thor and his Mjolnir ignite a firestorm of activity into otherworldly realms. You will be presented with opportunities to rack up increasing multipliers from 1X through 10 X as you make your way through this challenging adventure.
Autoplay functionality is also available, at pre-set bet levels for varying numbers of spins. If the action gets too intense, you can always tap off and disable this function at any time. With that said, let's check out some of the characters in Thor slots game.
Of course, there is the Norse God of Thunder himself, Thor, and his adopted brother Loki. The Wild symbol is represented by the Mjolnir and it substitutes for other symbols except for the Scatter symbol to form winning combinations.
The Scatter is an incredibly valuable symbol in the game, so be sure you can identify it during your challenging adventures. Other value-laden features include the Golden Horn, the Warrior Symbol, the Green Dragon, and the Children's Portrait.
Each of these will become familiar in due course. Generous payouts may result when players land the requisite number of matching symbols. Let's move on to the special features of Thor slots.
Special Features of Thor Slot Game
Thor Slots, The Trials of Asgard is packed with feature-rich elements. First off, there are the Scatter symbols which can trigger up to 10 Free Spins. Simply land 3+ Scatter symbols on the reels to initiate this feature. Multipliers begin on 1X and ramp up to 10 X. Watch out for the Golden Horn bonus feature encapsulated by a blue orb.
Perhaps the most entrancing feature of this game is the reel modifier element. Recall that Thor slots is a conventional 5 x 3 reel, 243 ways to win slot game, with a kicker! The 243 ways to win can be expanded up to 1024 ways to win as the game increases to a 5 x 4 reel slot.
Players will be introduced to Double Stacks Feature elements, with expanded reels. Fortunately, you can experience all of this with free Thor slot games at PlayToro online slots!
[] See More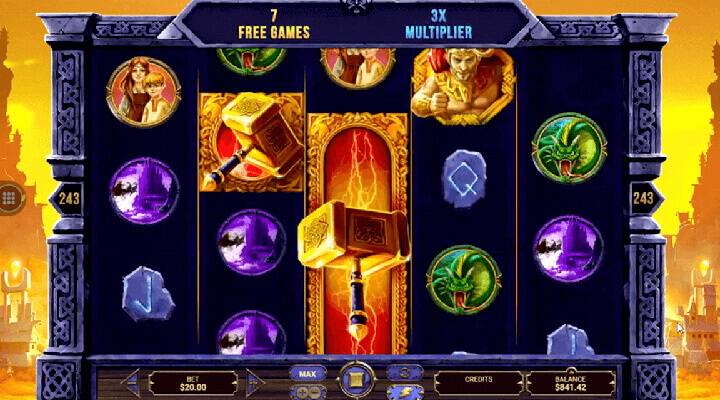 Time to Play Thor Slot Game
That was truly epic! You got the lowdown on Thor slots – now it's time to put that theory to the test. Get ready for Asgardian adventures with the 'The Thunderer', the 'God of Mischief', and a treasure trove of feature-rich symbols to ramp up the excitement.
Remember the Mighty Mjolnir, the Golden Horn, the Green Dragon, and the Warrior Symbol – they will serve you well along your journey. Increasing Multipliers, Free Spins and, in-game Bonus Rounds will keep you glued to your seat throughout.
Action-adventure fans will love Thor slots! Don't fret if it gets too intense, you can enjoy similar games like Midas Golden, Release the Kraken, and Dawn of Egypt. Here at PlayToro, you will always be entertained, in this world or the next.
Remember to claim your bonus – 100% Welcome Bonus up to €100 +25 Free Spins on Wild Toro Slots. Ts&Cs apply.+18. – for even more action-packed fun.