Pixies of the Forest Slots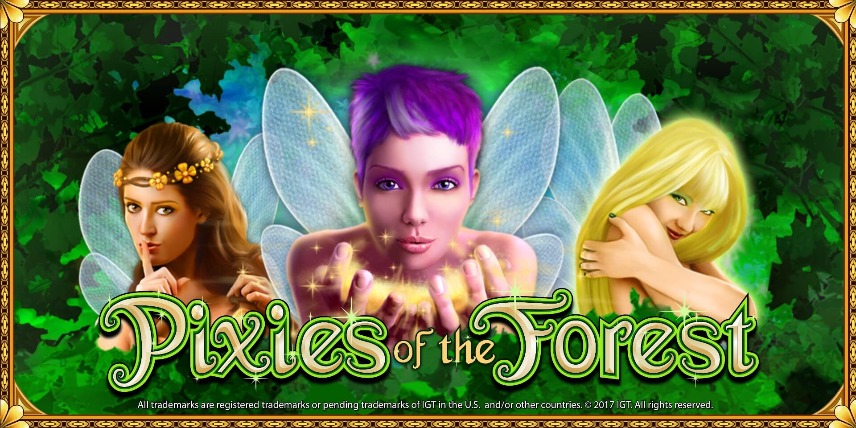 Pixies of The Forest Slot Game Review
Game Features
Min bet €0.33
Max bet €990
Paylines: 99
Reels: 5
Legendary playmaker, IGT has crafted one of the most enchanting slots ever to be released to online casino players – Pixies of the Forest! PlayToro Casino is proud to showcase this stunning slot machine game and all the magical treasures encapsulated within it. As its namesake suggests, Pixies of the Forest slot delivers on expectations with 3 delightful pixies with plenty of magic to share.
Listen closely player… that's the pitter-patter sound of pixies running through the forest on another one of their playful adventures. This time, you're invited to tag along with our Pixies of the Forest casino adventure right here at PlayToro. It'll only take a moment to prepare you for this adventure with the golden girls. Once you've read this Pixies of the Forest slot review, you'll be right as rain to zip through dense scrub at lightning speed, scaling treetops, mountain valleys, and enchanted forests like a maestro.
Let your imagination run wild as you join purple pixie, brown pixie, and golden pixie on their wildest adventure yet. Join all your favourite pixies and forest friends as you unlock Wilds and Bonus symbols, Free Spins, and Tumbling Reels galore. This is your adventure – play it any way you like, on PC, Mac, or mobile here at Play Toro Casino.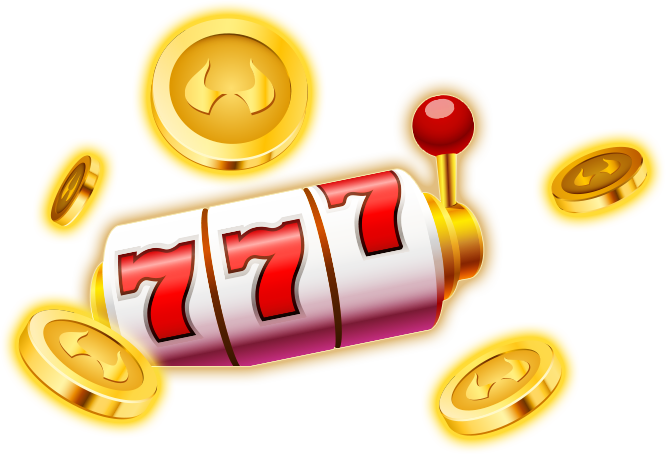 Play Pixies of the Forest Online
Pixies of the Forest slot is no ordinary game! The moment you activate the golden portal spin button, you're instantly teleported to a new realm of endless adventures. These pixies like to keep things on the down low, and you must be silent as you make your way through the magical forest. Listen closely, that's pixies scampering through the scrub, buzzing past you, and all around you. Yes! You have arrived in a forest with Pixies of the Forest slot machine game.
No doubt you're itching to get started with this 5 reel, 99 pay line slot machine game. Fortunately, it's really easy to power up those reels and sprinkle a little pixie dust on the vines. This 2D/3D enchanted adventure features all the elements you need to fill your knapsack with glittering rewards. Pixies of the Forest RTP is 93%, on par with the best of them.
RTP stands for Return To Player. The RTP percentage is a measure of the percentage of stakes a game returns to players (generally over a minimum of one million plays) and is a generally accepted guide to how a game will perform.
No doubt your mind is fixated on the glittering rewards up for grabs. Without further ado, it's time to learn how to play Pixies of the Forest slot game!
[] See More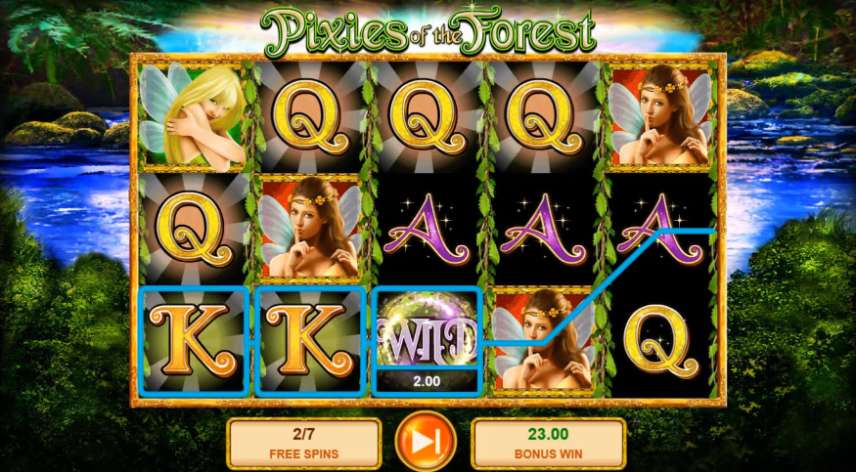 How to Play Pixies of the Forest Slot Game
Where shall we begin? How about the beginning – that's a great place to start! You can pick your preferred coin value by clicking on the left/right arrow buttons alongside the 'Coin Value' meter. As you can tell, a maximum of 33 coins can be wagered on 99 lines. These little pixies are quite particular about their numbers, and they like options that are divisible by 3. You will see the total bet listed alongside the 'Total Bet' meter. You're almost ready for your maiden flight into pixie land. Now, click the golden circular arrow and watch magic happen!
Now is the right time to introduce you to Pixies of the Forest characters and symbols. You've already met purple pixie, brown pixie, and golden pixie. They are the stars of the show, and your guides to safely navigating through this wonderland of adventures.
There are many other fascinating symbols and elements in the game, which we will reveal later in our Pixies of the Forest slot review. Take note, there is a Pixies of the Forest logo symbol and several low-paying symbols including Queen, King, and Ace.
Ready to learn about the special features in Pixies of the Forest bonus game? Step right up, you're on the threshold of some pretty amazing revelations in this magical slot game…
Special Features of Pixies of the Forest Slot Game
Pixies of the Forest slots are filled with wonderful bonus features. These include the 'Free Spins Bonus' and the 'Tumbling Reels Feature'. Both make for extraordinary entertainment, and they are yours to enjoy. The Free Spins bonus is activated by 3X Bonus Symbols. To discover the number of free spins awarded to you – Pixies of The Forest big wins are possible – click the reveal button. The lilac Wild symbol appears on reels 2-3-4. It substitutes for other symbols to form winning combinations, and at least 1 non-Wild must be included.
Want some more? Pixies of the Forest slot tumbling reels are easily triggered during the Base game, as well as the Free Spins bonus round. It's quite a sight watching those reels tumbling, so be sure to keep your eyes peeled when the Tumbling Reels Feature kicks in. With 99 glorious paylines in play, you've got so many ways to form rewarding combinations in Pixies of The Forest casino game. Your wings must be ready to take flight, so now it's time to play
Pixies of the Forest slot game.
[] See More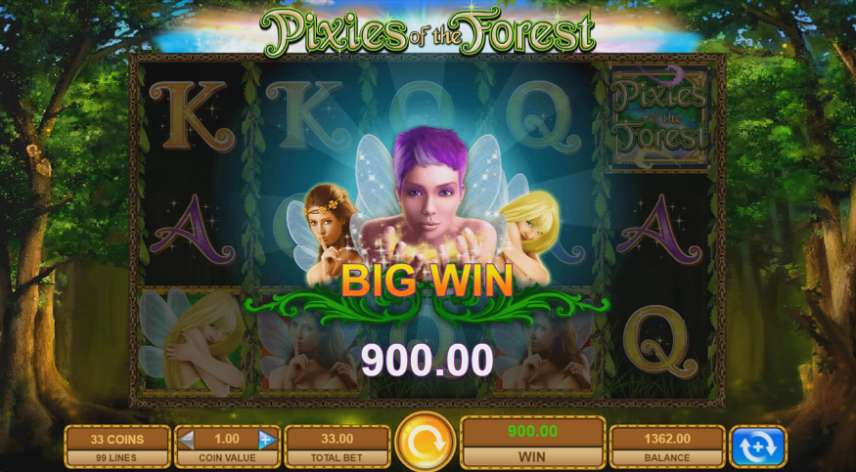 Time to Play Pixies of the Forest Slot Game
PlayToro Casino is proud to present you with this delightful adventure-filled slot game. Pixies of the Forest bonus games make everything worthwhile. Be sure to crank up the volume to the max, so that you can hear those pixies and forest creatures as you rack up the Pixies of The Forest big wins.
We've got lots of great games by IGT, including Cleopatra, Coin O Mania, and Griffins Throne. There are lots of similar games here at Play Toro Casino, including Enchanted Lamp, Wild Pixies, and Tower Tumble. Hear that? That's the Pixies of the Forest calling, let's not keep them waiting.