Immortal Romance Slots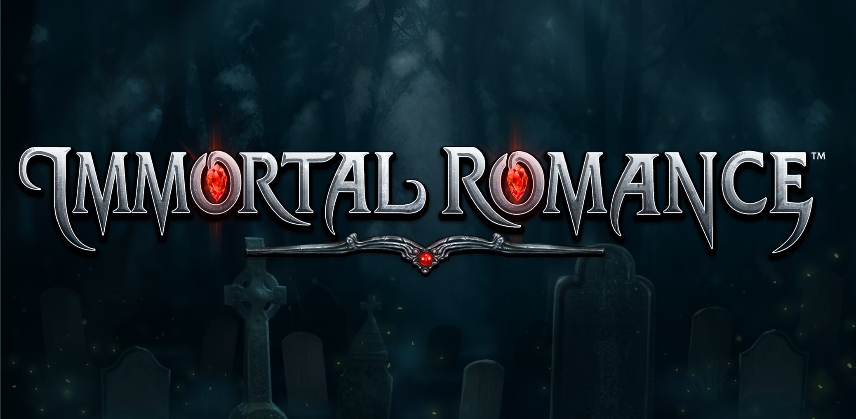 Immortal Romance Slot – A Bloody Good Vampire Adventure!
Game Features
Min bet €0.3
Max bet €30
Paylines: 243
Reels: 5
Special Features
Bonus
Free spins
Win multiplier
Can you feel it? A foreboding presence lurks in the blanket of darkness of Immortal Romance slot. This mesmerising adventure by Microgaming will have you on tenterhooks. Vampires with a bloodthirsty appetite are coming out to play with you at PlayToro online casino. Prepare for a game with plenty of bite as Immortal Romance free play slot comes within inches of your fingertips. With your heart racing in your chest, and your breath crystallizing before your eyes, you know what time it is – it's the witching hour when the vampires come out to play!
This remastered game packs a punch, with full HTML 5 functionality direct off your browser, right here at Play Toro Casino. Jokes aside, this wildly popular slot machine game has been making its rounds for years, and thanks to quick spin functionality, feature-rich animation, free games, and autoplay options, you have more than your fair share of features to look forward to. This is a supernatural tale of epic proportions. A mythical adventure into a dark world. You will be thrust into the thick of it where tombstones and bloodletting are the order of the day.
PS. If you wish to opt out now, you can try other games like Magic Mirror Deluxe, Royal Masquerade, or Sweet Alchemy – but you may want to get a taste of Immortal Romance free play slot first. This game is pretty gory, so if you've got a weak gut, best stay away from the vampires. For everyone else, don your cape and hover along, we are about to take you into a world of vampires, gargoyles, chambers of spins, wild desire, and rolling reels. Immortal Romance slot truly is an adventure of note!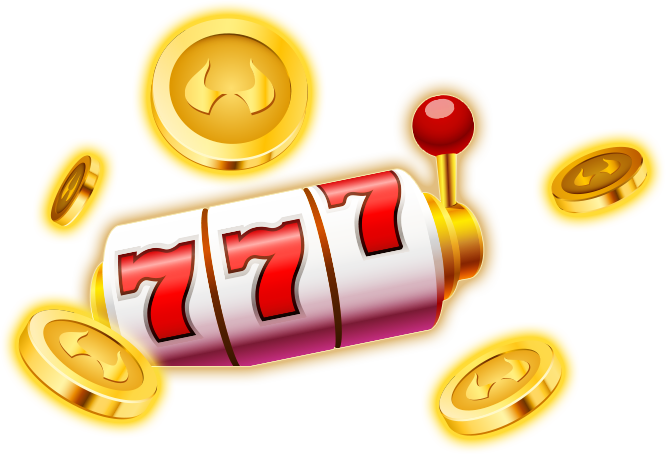 Play Immortal Romance Online
We begin our Immortal Romance slot review with an introduction to the game's 4 main characters. They include Amber, Michael, Sarah, and Troy. By all accounts, they are normal everyday people. But alas, Immortal Romance is anything but normal.
These are supernatural beings, and there's plenty of paranormal activity taking place in this Immortal Romance free play slot game. There are scores of features to get through in Immortal Romance slot, so stay close. You certainly don't want any of these characters nibbling at your neck…
Immortal Romance features 5 glorious spinning reels, and 243 ways to win. Given its danger level, the game creators – Microgaming – have decided to allocate a 97% Immortal Romance RTP, RTP stands for Return To Player.
The RTP percentage is a measure of the percentage of stakes a game returns to players (generally over a minimum of one million plays) and is a generally accepted guide to how a game will perform.

Here at PlayToro online casino, we recognise that there are horror slots fans among us. For those of you who enjoy the underworld, or the netherworld, welcome to Immortal Romance slot game.
Play Immortal Romance free and uninhibited. But remember to keep your wits about you. There are several in-game elements to watch out for, including Chamber of Spins, Rolling Reels, and Wild Desire. More of those later. For now, let's learn how to play Immortal Romance slot game!
[] See More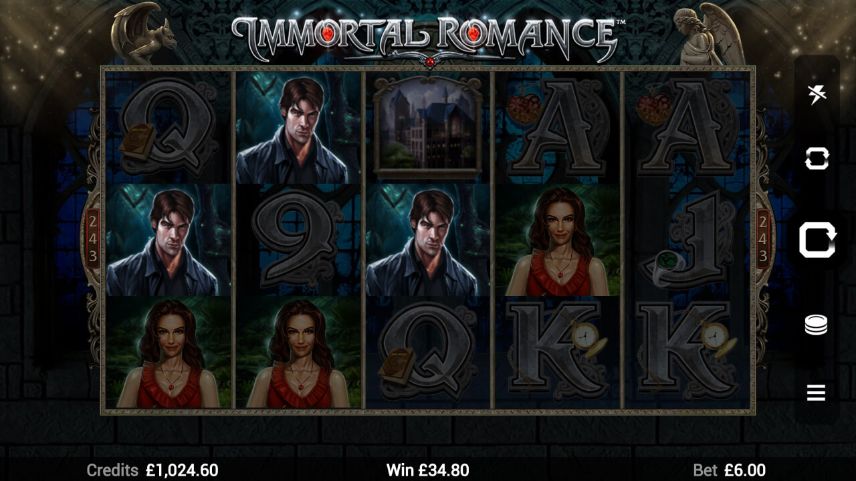 How to Play Immortal Romance Slot Game
Before play begins with Immortal Romance, you must know a thing or two about forbidden love. This game may be dark, but it's got a heart. This vampire-themed love story features an attractive cast of characters, including Troy, Sarah, Michael, and Amber.
You can choose your characters in the slot machine game at leisure. Each character has an occupation, and a power. For more on these supernatural characters, you'll simply have to check out Immortal Romance slot sites like PlayToro Casino!
Released back in 2011, when vampire movies were all the rage, all of the Immortal Romance best features are yours to enjoy. These supernatural beings – entities of the netherworld – have incredible cures for things like aging. But beware, some of these rogues are simply out for blood.
Right, let's learn how to play Immortal Romance slot game. There are 4 Free Spins, the potential to win up to 12,000 Extra Bet, and Wild Desire options up for grabs. With a 5 x 3 reel grid format, you will simply have to enter your bet size and click the spin button to get started.
Immortal Romance caters new vampires and centuries-old fiends alike. Pick an affordable bet to start with, and work your way up to the vampire master level. Low-paying symbols in the game include 9, 10, Jack, Queen, King, Ace. As you guessed it, each of the character creatures
is a high-paying symbol with the potential to award you many Free Spins.
Top symbols to watch for include Immortal Romance Wild which substitutes for other symbols except for the Golden Lions head Scatter to form combinations. With that said, let's check out the special features of Immortal Romance slot machine game.
Special Features of Immortal Romance Slot Game
It's hard to pick out the best feature of Immortal Romance slot, but with a max win of up to 364,500, that's a good place to start. The Wild rules are unique since the Immortal Romance logo can double when it substitutes for all symbols except the Golden Lions head Scatter.
The Chamber of Spins is perhaps the best feature. When you land 3, 4, 5 Golden Lions Scatter symbols, plenty of Free Spins start coming your way. Each of the featured characters has something exciting to offer players.
• Amber – 10 Free Spins with all Wins multiplied by 5
• Troy – 15 Free Spins with the vampire bats feature
• Michael – 20 Free Spins with the rolling reels feature
• Sarah – 25 Free Spins with the wild vine feature
Once you have chosen your character, you will experience the awesome power of Immortal Romance slots. No doubt, all of this reading is making your head spin. Now is the time for an Immortal Romance slot big win as you line up these vampires and hope for the best!
[] See More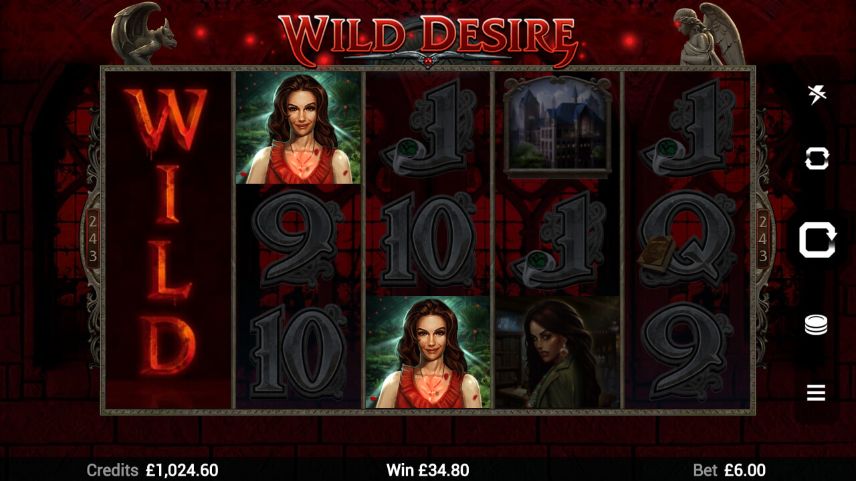 Time to Play Immortal Romance Slot Game
Immortal Romance slots is filled with captivating gameplay on every spin. With autoplay functionality, fully animated features, and surreal backdrops, you will feel like you are in a vampire-themed underworld.
Of course, if it's all getting a little too much to bear, you can always play other Microgaming titles like Side Winder, Star Gods, and 9 Pots of Gold. We've got your best interests at heart, even if these vampires are looking to sink their fangs into you…
Start flapping your wings and let the vampire transformation begin. We welcome you to play Immortal Romance demo games at PlayToro slots… if you dare…