Fruit Warp Slot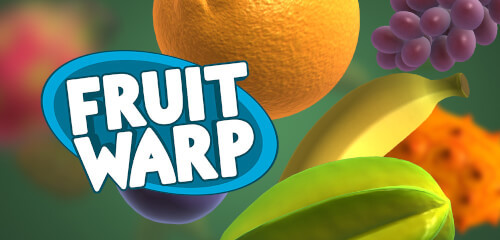 Play Fruit Warp Slot Machine Game
Game Features
Min bet €0.1
Max bet €100
Paylines: 9
Reels: 0
Special Features
Free Spins
Respin
Win multiplier
Thunderkick is behind the latest unbelievable fruit slot game, Fruit Warp. Often adjectives are bandied about, attesting to how unique a slot game really is. Most of the time, video slots follow a similar format, with no discernible differences between them. In the case of Fruit Warp, you've got to forget everything you know about fruit slots.
Seriously… Cleanse your mind of every other fruity-themed slot game you've ever played before. With a blank canvas in your mind's eye you're almost ready to formulate a vision of the truly amazing in-game mechanics of Fruit Warp slot. Remember all that green screen technology they use to make special effects in movies? Slap some of that green screen on your white canvas and throw in some zero gravity fruits. Now that's what Fruit Warp slot game looks like!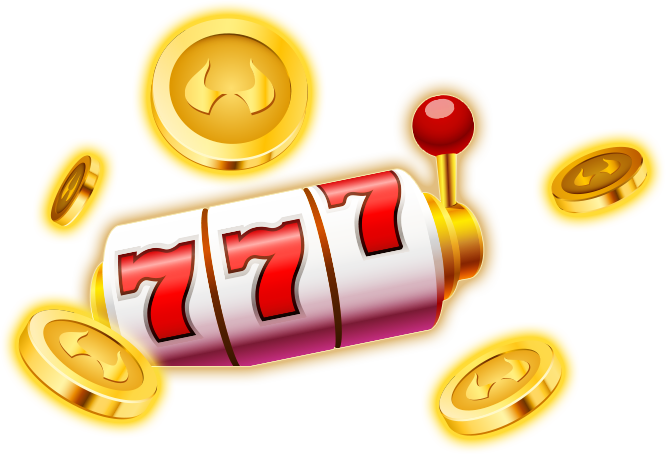 MAX WIN PER BET:
€1,100,000
Play Fruit Warp Online Slots
Fruit Warp is like a true space-age, fruity-themed slot game that bristles with excitement. The constraints of regular slots are absent. There are no borders, no reel lines, there aren't even any reels. It's a stunning visual display of 3D fruits suspended in animation, taunting players with their deliciousness. Every single fruit on the invisible reels is ripe for the picking.
This is one game where we strongly encourage you to read the Fruit Warp slot review before you get started. It can get pretty confusing understanding the paytable, and the winning combinations. Fortunately, PlayToro Casino has got you covered every step of the fruity way. In no time at all, we're going to show you how to form winning combinations, and how each of the fabulous in-game features works.
Get ready for the ultimate virtual taste test as you play Fruit Warp online slots!
At first glance, it can be a little intimidating trying to understand how to form winning combinations with random fruits mysteriously appearing on invisible reels. There are dragon fruits, grapes, strawberries, oranges, plums, bananas, and cherries aplenty. These succulent fruit symbols are the stars of the show.
Here's a useful Fruit Warp slot tip for you –
Simply match 3+ identical symbols anywhere on your screen to form winning combinations. When you land 4+ identical symbols, the other symbols will re-spin and they will be replaced with fresh fruit symbols.
You can see where this is all going – opportunities to win bigger prizes unfold as you form more matching symbols. When you land 5+ identical symbols, the game transforms into a brand-new mode of play. This is known as Fruit Mode!
The best way to experience all these incredible features is by playing Fruit Warp. Getting started with this truly eye-popping slot game is fairly easy. Scroll across to the centre of your screen, just beneath the Apple icon on the game.
You will see a bet value. Click on it to toggle your bet size. The available bets start at €0.10 and go all the way up to €100 per spin. There is plenty of leeway for casual players and high rollers to enjoy Fruit Warp Online Slots. Once you've selected your bet size, click the white circular arrows button on the right-hand side of your screen.
You're on your way to experiencing Fruit Warp slot at its finest. With Thunderkick powering the game, and PlayToro delivering, you know this is going to be one heck of a slot machine game.
[] See More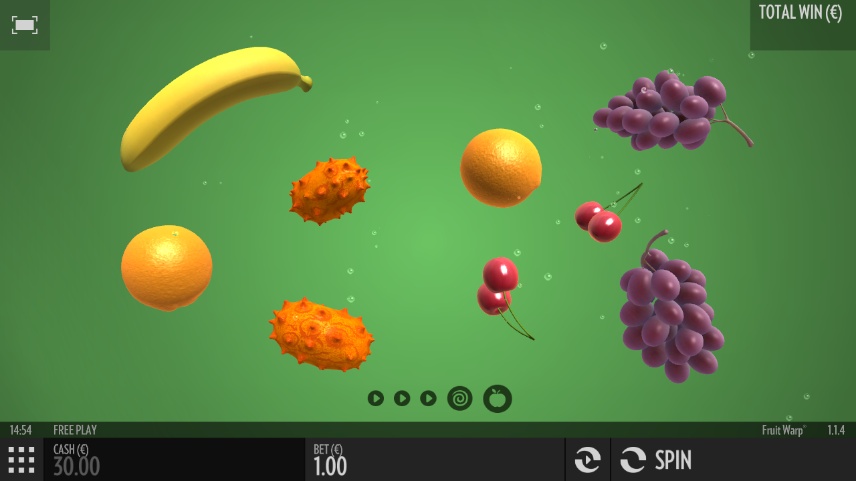 How to Play Fruit Warp Slot Machine Game Online
Our Fruit Warp slot review showcases the best of what this interactive game has to offer. The paytable is a pretty useful resource to walk you through the fruit modes and the warp meter. When you match the Fruit Mode, you activate a step in the Warp Meter. You will be granted a new respin when at least 1 symbol matches the fruit mode unless of course, the Warp Meter is already full.
The game's dynamic multipliers will boost wins, once their values have been unlocked. During Fruit Mode sessions of play, activated extra lives gift-free spins to players if no other symbols match with the Fruit Mode icon. You'll understand this rule much better when you play Fruit Warp slot game at PlayToro casino.
The Fruit Warp RTP is 97.00%. This RTP is calculated over at least 1 million spins, and reflects the long-term return to player. Next, we're going to take you to 'suspended animation central', where you will get up close and personal with all the juiciest fruits you can imagine.
Special Features of Fruit Warp Slot Game
Fruit Warp slot truly is a masterclass when it comes to gaming software. The true value in this video slot game is evident in the 3D animated fruits. Suspended in a green bubbly 'nano-liquid' these Fruit Warp slot symbols are a gateway to another fruity dimension.
The high-paying symbols in Fruit Warp slot include:
• Star Fruit
• Dragon Fruit
• Kiwano Melon
The low-paying symbols in Fruit Warp slot include:
• Plum
• Grapes
• Cherry
• Orange
• Banana
• Strawberry
In total, there are 9 mouthwatering fruits appearing on your screen. If what you're looking at appears to be a 3D rendition of a video game, it might as well be. It is as if players are in the thick of it, in a fruit miasma paradise. If you happen to hit 9X Dragon Fruit Symbols on the reels, a whopping x216 your bet will be paid out. Sounds deliciously attractive, doesn't it?
To see it happen in real-time, get started with Fruit Warp, right here at PlayToro Casino.
An extra special feature of this game is autoplay functionality. It instantly spins the fruits on your screen, to deliver round after round of entertaining games at pre-set bet levels. You can disable this feature at any time by simply clicking the button.
[] See More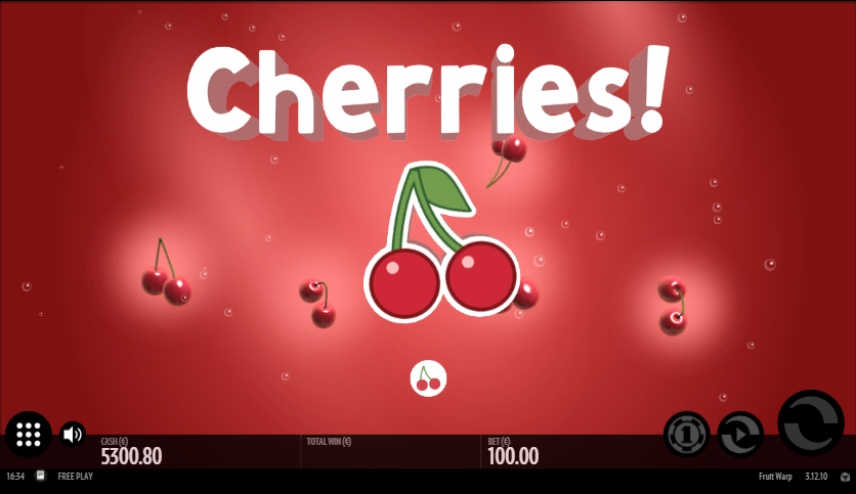 Let's Play Fruit Warp Slot
Fruit Warp slot game is quite possibly the most original slot game you're likely to find.
Designed, developed, and perfected by Thunderkick, this fruit-themed slot really puts a new spin on things. It's a feature-rich attraction, and lots of fun, just the way you like fruit slots to be.
Maybe the game creators threw away the rule book when they formulated this game? This is quite possibly the new frontier of slot games. If you prefer conventional slots, you may want to try your luck with Carnival Queen slot, Well of Wonders slot, or Jaguar Temple slots.
For similar games, you're going to want to try Hot to Burn, Fruit Rainbow, and the PlayToro Casino's favourite, Lightning Joker slot game. Bonuses are always delicious, so get yours – 100% Welcome Bonus up to €100 + 25 Free Spins on Wild Toro Slots (18+. T&C Apply). Enjoy Fruit Warp slot today!
[] See More